When I first heard about Bitcoin almost ten years ago, I thought it was nothing more than another video game. My first exposure to the world of video games was in college when Pong, Ms. Pacman, and Asteroids burst on the scene. After graduating, I did not pay much attention to the new and improved games with increasingly sophisticated graphics and strategies.
My sons discovered video games at young ages. They were great babysitters. Super Mario and other games occupied their time. I would often put them to bed after sitting for hours with controllers, their eyeballs spinning in their head from exhaustion.
In 2010, one of my friends told me about Bitcoin and mining for the tokens. I assumed it was the newest iteration of another video game; boy, was I wrong. In 2010, a Bitcoin was worth $0.06; by the end of 2017, the tokens were going for over $20,000. Bitcoin is a revolutionary asset, and blockchain is the basis for accounting and operations for the future. I wish I had the foresight to realize that Bitcoin's birth was the beginning of a new means of exchange that would challenge fiat currencies.
As Bitcoin was trading at around the $10,000 level less than two months ago, the market appeared to be undergoing a technical breakout to the upside. One of the technology-based payments company made a significant investment in digital currency. Over the past weeks, the value of that investment and price of Square's (SQ) stock have leaped higher. Meanwhile, the Grayscale Bitcoin Trust (GBTC) tracks Bitcoin's price. We are likely to see many products in the digital currency asset class over the coming months and years.
A $50 million investment that is up over 55% in under two months
On October 8, Square, Inc. announced it purchased approximately 4,709 bitcoins at an aggregate purchase price of $50 million. The per coin price was $10,638.83 per token.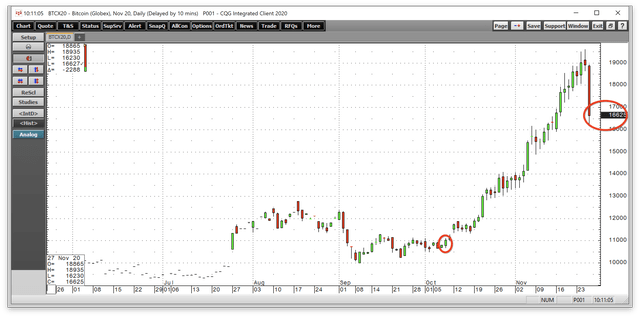 Source: CQG
The chart shows that Bitcoin futures were $10,680 level at the low on October 8. After rising to a high of $19,605 on November 25, the digital currency asset class leader pulled back to $16,625 on November 27, which was still an over 55% increase from the day of Square's announcement.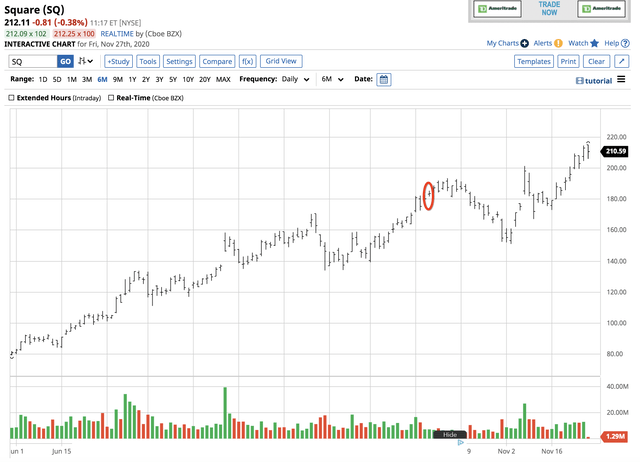 Source: Barchart
Meanwhile, SQ shares rose from $183.50 on October 8 to the $212 level on November 27, an increase of 15.5%. Square's $50 million purchase was worth almost $78.3 million at the end of last week, not bad for an investment made under two months ago. While the stock market has rallied since early October, the Bitcoin purchase certainly did not hurt SQ's share price.
Bitcoin is a global political football
Bitcoin and the rest of the digital currency asset class are novel instruments. They are a natural progression of the technological era that has shrunk the world in communications, business flows, and many aspects of life. Cryptocurrencies are pan-global means of exchange. They transcend borders and political systems.
Central banks, monetary authorities, and governments maintain control of individual and global economies via control of the money supply. Broad adoption of Bitcoin, another digital currency, or a group of the exchange instruments would remove a significant element of that control. Therefore, Bitcoin and other tokens are a political football for leaders worldwide.
In the US, in hearings in the House of Representative and the Senate, there was more than a little pushback from legislators with Facebook's (FB) proposed Libra digital currency. While Congress has expressed many concerns about FB and other technology leaders, the government's attitude towards Libra was more a commentary on the growth of the asset class. The higher the price of Bitcoin moves and the more the asset class's market cap grows, the more concerned governments will become. Control of the money supply is a critical power for governments. The pan-global nature of the structure of cryptocurrencies runs counter to that power. It also reflects the overall distrust in governments and erodes the full faith and credit in fiat forms of legal tender.
Governments are embracing blockchain technology that is the child of the cryptocurrencies, but they will continue to suppress the growth of the tokens as a means of exchange for as long as possible. Eventually, governments will create digital currencies within their control, but that could take years, if not decades, given the pace at which governmental change occurs.
Jack Dorsey runs two companies- Twitter and Square
Jack Dorsey…


Read More: A Bumpy Road For Bitcoin As It Heads For Record Territory, As Square Lit A Fuse