In just over two decades, Rene Benko has gone from high-school dropout converting attic space in Austria to a tycoon atop a $22 billion global property empire. In New York, he owns the iconic Chrysler Building. In Vienna, the luxurious Park Hyatt Hotel. In Berlin, the sprawling KaDeWe department store.
Benko's ascent has been propelled by a bet that the value of his real estate can only go in one direction: Up. The 43-year-old's strategy is grounded on the idea that only the Catholic Church and the Queen of England can boast a comparable portfolio of unique locations, as he likes to tell associates.
Overall valuations at his main unit — Signa Prime Selection AG — are due to have increased by about 10% in 2020, setting up for another year of good numbers, according to people familiar with the group's finances. By contrast, the global pandemic is forcing other property managers to write down the estimated value of many downtown stores, malls and hotels.

An analysis of hundreds of Austrian filings — including annual reports and protocols of closed-door shareholder meetings — and interviews with dozens of people with knowledge of Benko's operations offer an unprecedented glimpse into his network's structure and reveal how dependent his business is on rising valuations.
Even a mere stagnation in the book value of his properties could impact profits, while a decline would worsen the financial metrics that are critical for his funding.
Benko and his representatives declined to comment for this report.
A booming real-estate market over the past decade underpinned his firm's ability to raise money and pay dividends to investors, helping attract the likes of New York-based Madison International Realty LLC, France's Peugeot family and German insurer R+V Versicherung AG.
The paper gains also helped the bottom line and regularly outstripped rental income by a wide margin in recent years. At Signa Prime, positive "fair value adjustments" — the estimated year-on-year change in the property portfolio which reflects rental income as well as development progress and optimization efforts — were the biggest contributor to the bottom line in each of its last six annual statements.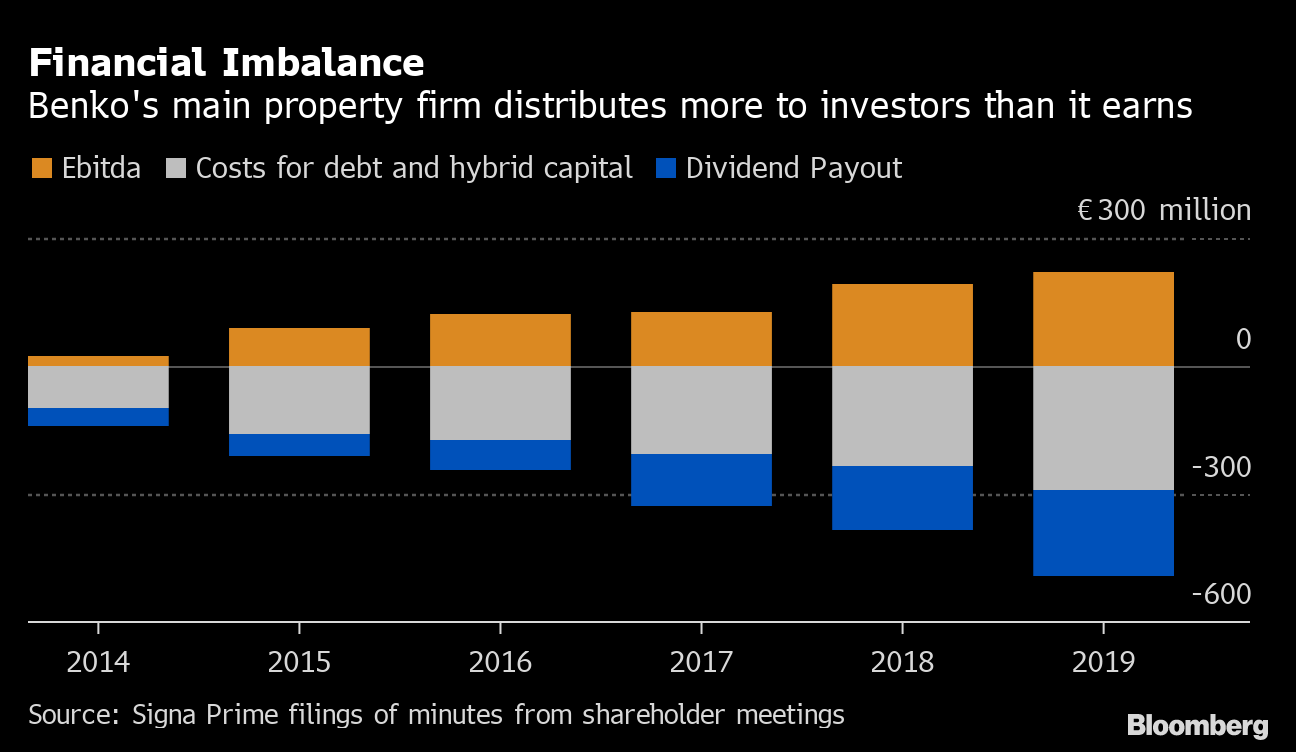 But as pandemic lockdowns leave major cities with swaths of empty stores and hotels, that model risks colliding with market forces.
"Even the well-positioned retail properties in excellent central locations are estimated to have lost some value" last year, said Jakub Caithaml, a real-estate analyst at Czech brokerage Wood & Co. who covers Austrian property managers but not unlisted Signa Prime. "Unsurprisingly, the same is true for prime hotels."
For Benko's companies, the abrupt turn in the market coincides with heightened scrutiny from financial watchdogs. Banking regulators have taken notice of the increasingly large role his empire plays in Austrian real estate borrowing.
In 2019, the country's Financial Market Authority expressed concerns about Raiffeisen Bank International AG's exposure after it participated in a syndicated loan to Signa Prime, according to email messages between staff at FMA seen by Bloomberg News. Both the bank and the regulator declined to comment.
Earlier this month, the country's Financial Market Stability Board started to monitor "systemic risks arising from the financing of commercial real estate very closely" because some sectors, especially those related to retail and tourism, have been "hit particularly hard by the pandemic," it said in a statement.
The stakes are high for Benko's empire, which comprises a web of closely-held and privately-funded entities. And there are signs that the pandemic has cut into operations.
After his group dropped efforts to sell at least 300 million euros ($350 million) of bonds backed by ring-fenced property assets, it entered into talks with several banks about a Schuldschein loan — a promissory note that's marketed to local savings banks,…


Read More: Billionaire Rene Benko's Real Estate Empire At Risk From Covid Pandemic