This article was written exclusively for Investing.com
Bullish crypto trend continues with market cap near the $2 trillion mark
Few cryptos with market caps over $1 billion
Celsius in the top 100
Fantom is ranked nearby
Only invest what you're willing to lose
At the end of last week, was sitting at just under the $59,000 level and at time of writing it's back over $60,000. During the same period, was over $2,070 per token and is now trading above $2,100. The parabolic moves for these cryptocurrencies have been perhaps the most dramatic in our lifetimes.
Some crypto devotees continue to believe that there is lots of upside left for the two leaders that hold over 67% of the entire digital currency market cap. While their share is dominant, it has been dropping recently, meaning other tokens are outperforming the leaders.
Finding value in the digital currency arena is a highly speculative adventure. With 9,190 coins to choose from at the end of last week, there are hidden gems for the future. However, the vast majority will fade into the abyss. Many of the tokens with marginal market caps are nothing more than lotto tickets with slim chances of a pay-off for investors.
When searching for value in this new asset class, I look for the tokens that have already established a degree of critical mass. The $1 billion market cap level is currently my cutoff for consideration. (CEL) and (FTM) are two tokens above the one-billion level. As well, they're in the top 100 of the cryptocurrency hierarchy.
Bullish crypto trend continues with the market cap near $2 trillion mark
After making a high of $61,255 per token in mid-March, Bitcoin was sitting at just under the $59,000 level on Apr. 9.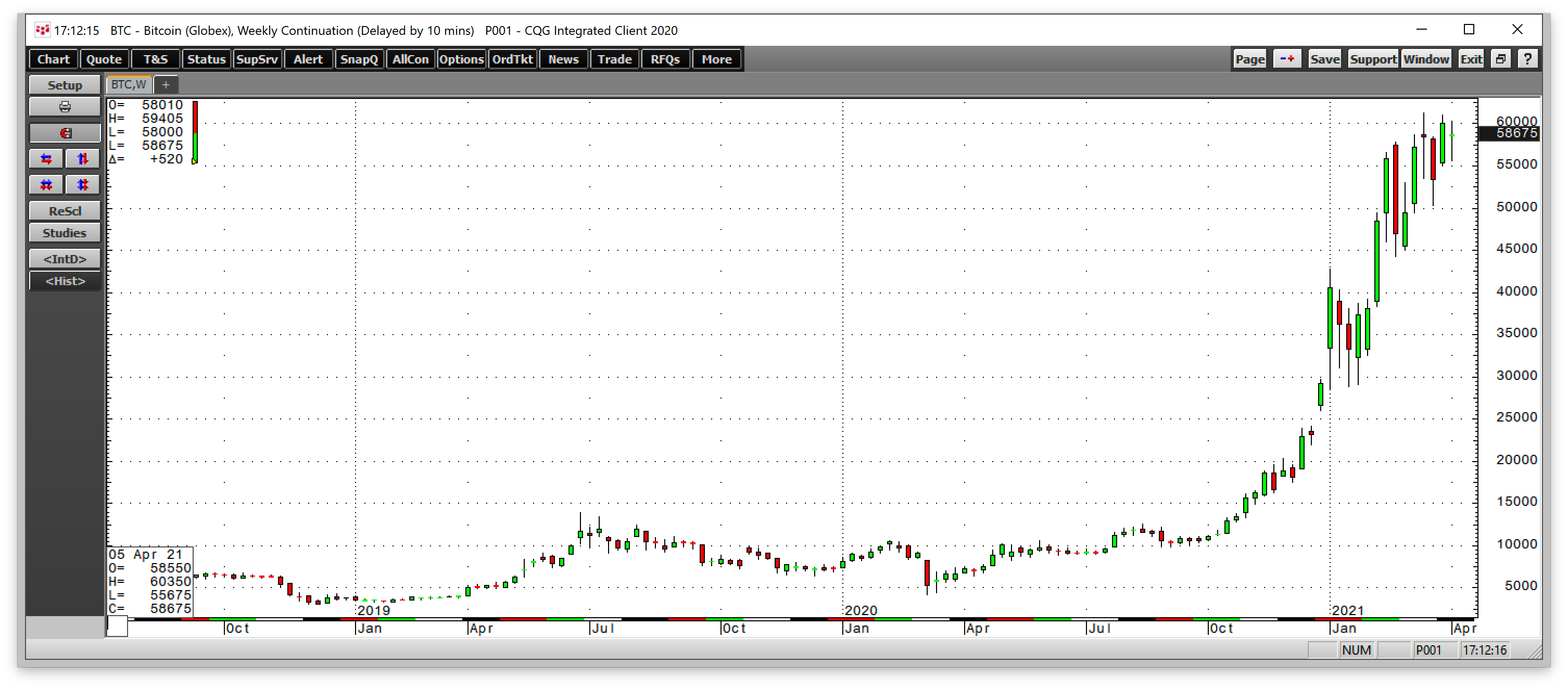 Source: CQG
The chart above highlights that Bitcoin was consolidating at the end of last week, just a stone's throw away from its all-time peak.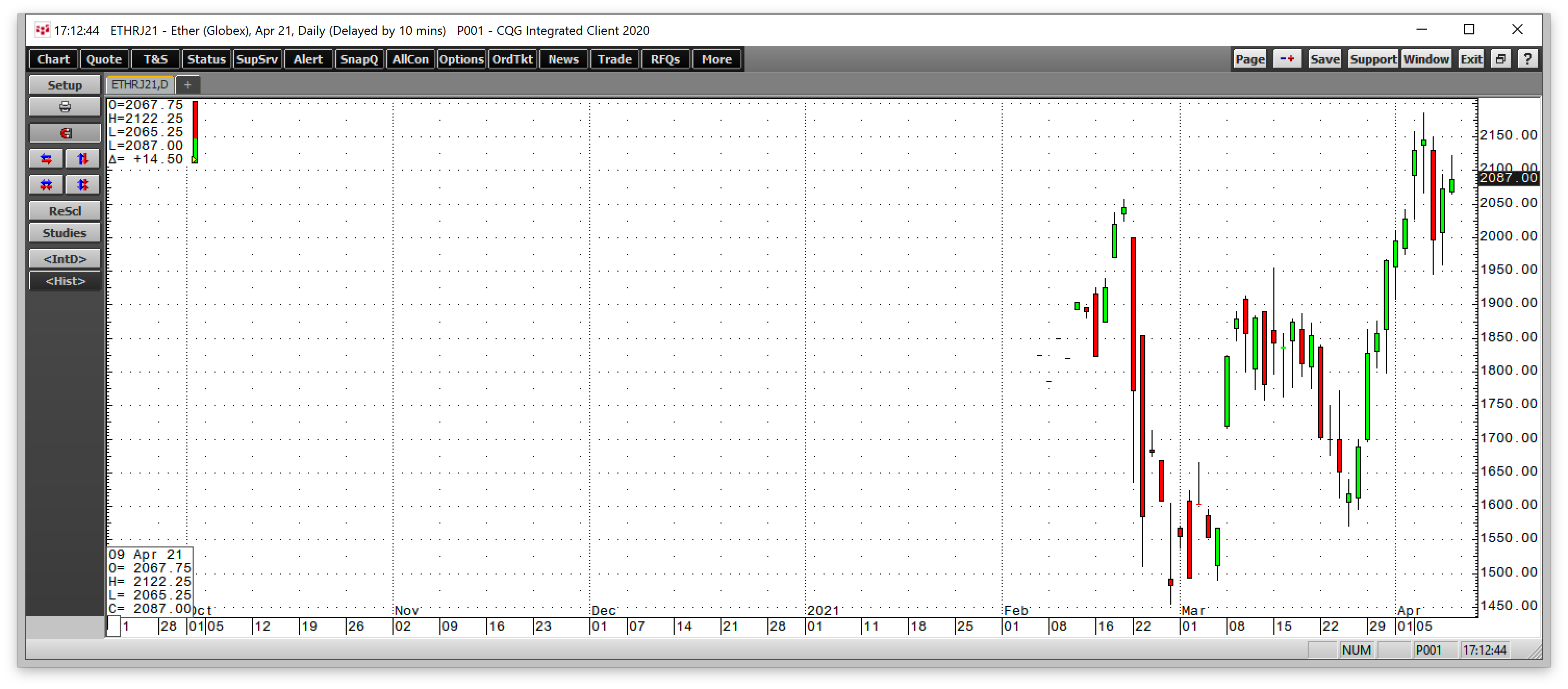 Source: CQG
Meanwhile, , which began trading on Feb. 8, 2021, reached a new record high on Apr. 6 at $2,185.50, were just under $2,090 at the end of last week and are heading back to their peak at time of writing.
The market cap of the 9,190 digital currencies stood at the $1.986 trillion level. Bitcoin's total value was at $1.091 trillion, and Ethereum's was $240 billion, amounting to 67% of the asset class's market cap. The other 9,188 cryptos account for 33%, but the top-tier digital currencies have a far larger share.
The top ten and their market caps include:
Bitcoin (BTC)- $1,091 billion
Ethereum (ETH)- $240 billion
(BNB)- $68.9 billion
(XRP)- $48.3 billion
(USDT)- $43.8 billion
(ADA)- $38.6 billion
(DOT)- $37.9 billion
(UNI)- $15.6 billion
(LTC)- $15.0 billion
(LINK)- $13.3 billion
The other 9,180 tokens share under 19% of the digital currency asset class's market cap.
Few cryptos with market caps over $1 billion
As of Apr. 9, ninety-six tokens, or 0.105% of the cryptocurrency market, had a market cap over the $1 billion level. Meanwhile, 436 tokens, or 0.474%, were worth more than $100 million. 1667, or 18.1%, were worth over $1 million.
The remaining 7,000+ tokens were nothing more than lotto tickets with little chance of paying off. There may be diamonds in the rough out there among the low-value tokens, but the odds are that most will fade into a worthless abyss and become dust collectors in those digital wallets in cyberspace.
When looking for an opportunity in the asset class, as I said earlier, I favor those with $1 billion market caps and higher. Liquidity is critical for any investment. The ability to buy and sell on a tight bid-offer spread increases the chances of profits. In the digital currency world, liquidity improves the odds of a token's survival.
Celsius in the top 100
Currently, Celsius (CEL) is the 69th leading cryptocurrency. The celsius network is a financial technology or fintech platform that offers interest-bearing savings accounts, borrowing, and payments with digital and fiat assets. Celsius returned 80% of its revenue to network users in rewards, while the other 20% funds project expansion. The celsius website highlights the network and its "utility" token.
The celsius token was trading at the $7.61 level at the end of last week, with a market cap of $1.818 billion.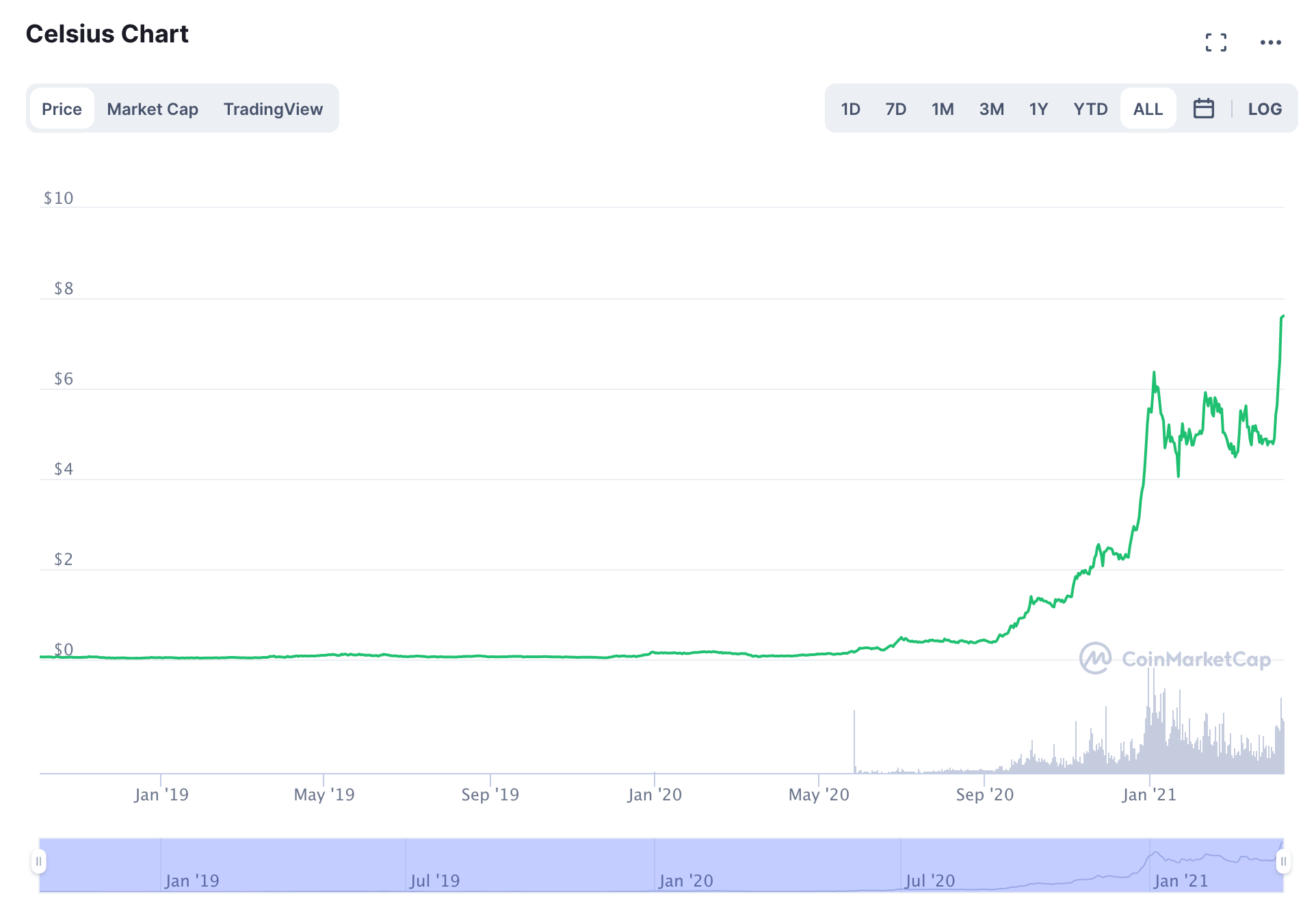 Source: CoinMarketCap
As the chart shows, the CEL token has traded from a low of under five cents to a high of $7.61 since October 2018. The token has been trending higher, rising from below 37 cents in September 2020 to the most recent high last week. At over the $1.8 billion…


Read More: Celsius And Fantom: 2 Cryptocurrencies That Have Reached Critical Mass