2021 HMG Live! New York CIO Summit of America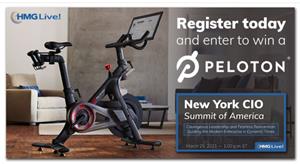 Join the top business technology executives from the New York Metro Area and across the world as we explore opportunities to reimagine the business, foster a culture of diversity and strengthen boardroom communication skills.
Speakers and attendees in this highly interactive event will also explore how technology executives can prepare their companies for cybersecurity threats along with leading and building a high-performing culture. Register now! – the first 150 registrants will be entered into a raffle to win a Peloton bike!
WESTPORT, Conn., March 19, 2021 (GLOBE NEWSWIRE) — HMG Strategy, the world's #1 research forum for enabling technology executives to reimagine the enterprise and reshape the business world, is excited to be hosting its signature event – the 2021 HMG Live! New York CIO Summit of America – on March 25. HMG Strategy's highly interactive digital events bring together the world's most distinguished and innovative business technology leaders to discuss the most pressing leadership, strategic, cultural, technological and career challenges technology executives face today – and into the future.
The 2021 HMG Live! New York CIO Summit of America will focus on leading and building a high performing culture in a changing workplace, steps that CIOs and technology executives can take to become boardroom-ready, and the inspiring opportunities available to tech leaders to help reimagine the business and develop new go-to-market strategies.
"We have an absolutely fantastic lineup of speakers and a stellar agenda for this event," said Hunter Muller, President and CEO of HMG Strategy. "There is so much opportunity for technology leaders to lead, reimagine and reinvent the business and the customer journey and I'm very excited to have such innovative, thoughtful minds as a part of this discussion."
HMG Strategy is also excited to have special guest speaker and bestselling author Stephen M.R. Covey share his insights on why a high-trust culture can operate with greater efficiency at less cost along with recommendations for CISOs and technology executives to cultivate trust with the CEO, the Board and across the organization.
Prominent technology executives speaking at the 2021 HMG Live! New York CIO Summit of America include:
Renee Arrington, President and COO, Pearson Partners International, Inc.
Andrew Campbell, CIO, Terex Corporation
Allan Cockriel, VP and CIO Global Functions and IRM Global Chief Information Security Officer (CISO), Shell
Meredith Cooper, Senior Director of Product Marketing, Digital Media Enterprise, Adobe
Stephen M. R. Covey, Global Authority on Trust, Leadership and Culture, The FranklinCovey Global Speed of Trust Practice
Robert DeVito, Customer and Partner Sales Engineering Lead, Google Chrome Enterprise
Susan Doniz, CIO and SVP IT & Data Analytics, The Boeing Company
Jameeka Green Aaron, CISO, Auth0
Jeanette Horan, Experienced Board Member and Strategic Advisor
Monti Knode, Director of Customer Success, Horizon3.ai
Martin Leach, VP, R&D IT, Global Quality IT, Human Experience IT, Alexion Pharmaceuticals
Tony Leng, Managing Director, Digital Transformation and CIO Practice Lead, Diversified Search
Beni Lopez, Managing Director, Industrial and U.S. Market, Softtek
Lesley Ma, CIO and Chief Continuous Improvement Officer, NSF International
Tomas Maldonado, CISO, National Football League
Paul Martin, Former SVP & CIO (Retired) Baxter International, and Board of Directors, Unisys Corporation and Owens Corning and Ping Identity
Quintin McGrath, Senior Managing Director, Technology Management & Enablement, Global Technology Services, Deloitte
Steve Mills, Global CIO, iHeart Media
Manav Misra, Chief Data and Analytics Officer, Regions Financial Corporation
Isaiah Nathaniel, CIO, Delaware Valley Community Health
Jim Panos, CIO, Central National Gottesman Inc.
Ashish Parmar, CIO, Tapestry
Mark Polansky, Senior Partner, Technology Officers Practice, Korn Ferry
Frank Price, Senior Vice President & Chief Information Risk Officer, Hudson's Bay Company
Vito Sardanopoli, Managing Partner/Owner, Vantage CyberRisk Partners, LLC
Phil Schneidermeyer, Managing Director, CIO Search Group
Trevor Schulze, SVP & CIO, RingCentral
Kimberly Stevenson, SVP & GM Foundational Data Services, NetApp
Chris Van Wesep, Sr Director Product Marketing, Apptio
Jennifer Wesson Greenman, Chief Information Officer, Cancer Treatment Centers of…


Read More: CIO Leadership: A Stellar Lineup of Business Technology Executives Will Focus on