Last week's cyberattack on the Colonial Pipeline, which delivers gasoline, diesel and jet fuel along the U.S. east coast, is being seen as another wake-up call — not just for the owners of energy infrastructure, but for everyone who relies on it, too.
The trouble came less than three months after a winter storm knocked out a large part of the Texas power grid — a very different, but much more consequential, disruption to the U.S. energy system. It's become clear just how vulnerable the country's energy supply is to threats.
The attack on Colonial has led, quite rightly, to demands for better cyber security. But more secure systems will only take us so far. Would-be thieves are continually finding new ways around them. So on top of making infrastructure harder to attack, governments and industry also need to find ways to reduce the severity and impact of future breaches.
A number of solutions have been proposed for doing this. Environmental groups have called for a faster transition away from fossil fuels; oil industry advocates have railed against anti-pipeline protestors and the closure of refineries in eastern states; and the coal industry has touted its out-of-favor fuel as a "valuable insurance policy" against future hacks.
Each of these agendas has its own issues.
Renewable fuels may well be more resilient than fossil-based systems, says Wenonah Hauter, executive director of the environmental group Food and Water Watch. But the massive transition needed to get everyone driving electric vehicles is going to take time. While my colleagues at BloombergNEF see 82 million electric vehicles on U.S. streets by 2040, that'll still only comprise a little more than 40% of the cars and trucks out there.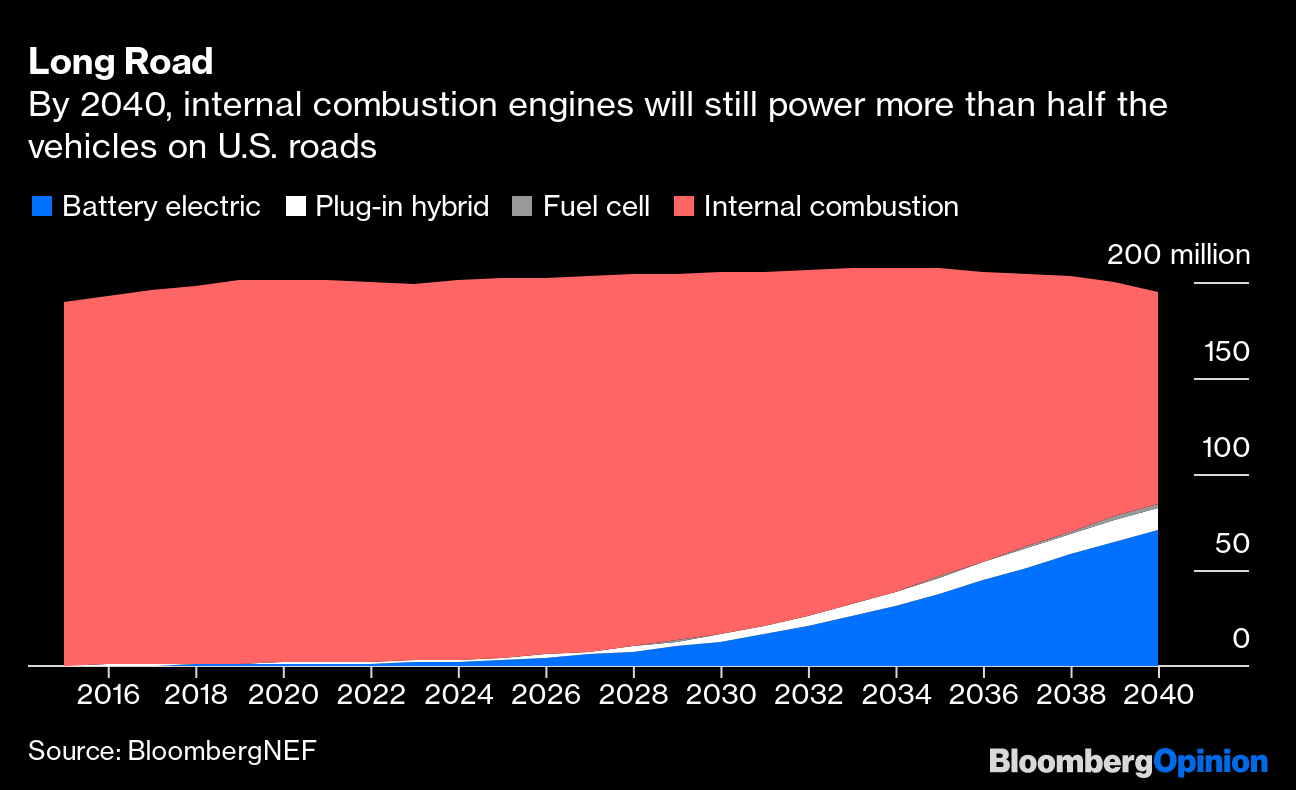 The oil industry is advocating for more pipelines, but this will only be effective in reducing risk if we're prepared to introduce (and pay for) redundancy. It has never made economic sense to operate a pipeline below capacity — Colonial is a lucrative cash cow for its owners —  and anyone building a new line parallel to Colonial will want to fill it. Therefore someone is going to have pay to keep one, or both, partly empty, if they are to mitigate the impact of any future disruption. Perhaps that cost can be seen as an insurance premium.
More reliance on coal wouldn't help much either in mitigating the impact of cyberattacks. Yes, coal might be useful to generate power when other sources are down, but as I've noted before, coal power doesn't work all that well to fuel things like cars.
More refineries on the east coast might have alleviated the problem, but again, that seems like an expensive solution to a relatively small problem. Four of the seven plants along the Delaware River south of Philadelphia have been closed or mothballed because they weren't economically viable. Without a change in the economics, they won't reopen.
Given these challenges, I think there's a much simpler and quicker solution for preventing future Colonial-like problems: a strategic stockpile of refined products.
The U.S. strategic oil stockpile hasn't been fit for purpose for at least a decade. Consisting of four sets of salt caverns, all located along the Gulf coast and holding crude oil, the Strategic Petroleum Reserve is ill-suited to meet the needs of consumers, who need the refined fuels they put in their tanks, and of refineries on the West Coast or anywhere far from the Gulf region.
The International Energy Agency requires member countries to hold at least 90 days' worth of net imports. The SPR currently hold 2.5 times that level of crude, but the nation's strategic stockpile of refined products is paltry.
Refined stockpiles that do exist are concentrated in the north. The Northeast Home Heating Oil Reserve holds 1 million barrels of ultra low sulfur distillate (diesel) in Boston, New York and Connecticut, and…


Read More: Colonial Pipeline Hack Shows U.S. Must Diversify Its Oil Reserves