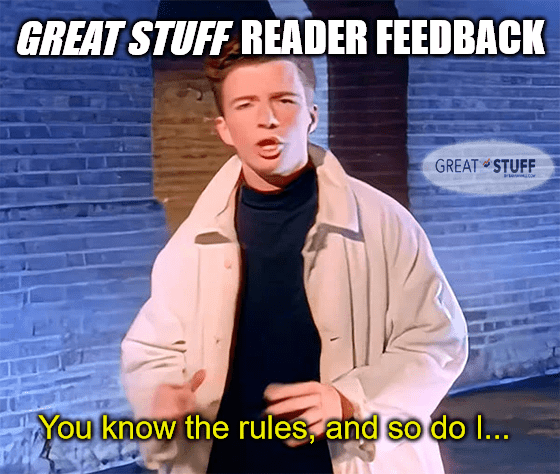 Wait For It … Wait For It!
It's that time again, Great Ones!
Time to spin the Wheel of Morality?
Unfortunately, no. But I do appreciate the Animaniacs reference. No, it's time for Great Stuff Reader Feedback!
And there was much rejoicing!
Thank you. Thank you! As Great Ones know, Reader Feedback day is the day that I, Mr. Great Stuff, answer your burning stock and market questions, indulge in your investing rants and generally just run amok.
Indeed. So, if you'd like to get in on next week's Reader Feedback mayhem, drop me a line at GreatStuffToday@BanyanHill.com.
Now, where were we? Ah, yes … today's featured presentation:
So, I bought DCRB right after you recommended it. As it traveled down the road, I bought more at three successively lower prices. Be honest with me. Am I A) throwing good money after bad, B) trying to catch a falling knife, C) shopping for diamonds at the Dollar Store, D) all of the above or E) something else?  — Chuck the Schmuck
Thank's for writing in, Chuck! First, I want to make clear that Chuck called himself a schmuck. Not that I wouldn't have, but he got there first.
Anyway … Decarbonization Plus Acquisition (Nasdaq: DCRB), the SPAC that is merging with hydrogen fuel cell specialist Hyzon Motors. I'm sure many Great Stuff Picks readers are worried about that stock pick right now. The stock is down about 30% since I recommended it on February 10.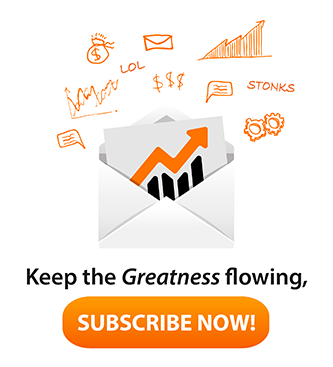 Since we're being honest, I expected some pullback in DCRB stock ahead of the Hyzon merger. After all, we bought in about two or three months ahead of the actual merger, which is taking place in the second quarter — which just started today.
However, in my defense, nobody expected the interest rate inquisition. Amongst its weaponry are such diverse elements as: fear, surprise, ruthless speculation and an almost fanatical devotion to inflationary rhetoric!
And it's not just DCRB feeling the heat. Speculative growth stocks across the board have been hammered since mid-February due to inflationary fears.
As I've said before, I believe these fears are unfounded, especially when we look past the short term. Yes, despite Wall Street's "give me profits Now!" attitude, there are some people — like yours truly — that plan beyond the next three months.
DCRB's merger with Hyzon Motors is one such plan.
Could I have waited to recommend DCRB and hope for a better entry price? Sure. But the market could have also not freaked out unnecessarily over inflation concerns too, and DCRB could be much higher than it was when I recommended it.
Hydrogen is the future of alternative energy, and Hyzon Motors is right there at the forefront of this movement. I mean, it already has vehicles on the ground running on hydrogen fuel cells. I'm talking semitrucks, on the road in Europe … right now.
Furthermore, the company just announced a leasing service for hydrogen-powered commercial vehicles across the pond. Hyzon hopes the leasing program will speed up the deployment of hydrogen-powered trucks with fleet operations all over Europe.
Anyway … you got me monologuing on hydrogen again, Chuck. What I'm trying to say is that I don't think you're a schmuck. But I do think that you won't have many chances to buy DCRB at "successively lower prices." DCRB appears to have leveled out.
For everyone out there, including you, Chuck, who's worried about DCRB: Wait for it.
In the words of Aaron Burr in "Wait For It" from the musical Hamilton:
The market doesn't discriminate between the sinners and the saints, it takes, and it takes and it takes.
And we keep trading anyway. We laugh, and we cry, and we break and we make our mistakes.
And if there's a reason I'm still in DCRB when so many have tried, I'm willing to wait for it.
I'm willing to wait for it.
Hang in there, Chuck. DCRB's market cap is currently a mere $302 million. Hyzon is valued at roughly $2.7 billion. I'm sure you can do the math here. Wait for it.
Editor's Note: Big Data And AI Used To Predict No. 1 Investment Of The 2020s
A technology called "Imperium" is about to spark the biggest investment mega trend in history … with one small Silicon Valley company at the center of it all.
It's something that only science geeks know about right now. Yet, according to experts, Imperium is set to go from 1 million users to 2 billion in the next four years, launching a stock market "gravy train" that almost nobody…


Read More: DCRB Stock Down Ahead of Hyzon Merger