James Kwantes of Resource Opportunities discusses North Arrow Minerals and explains why he believes the state is set for a diamond rebound.

Tulips were introduced to the Netherlands in the late 1500s and the country soon fell in love with the brightly colored flowers. Their arrival coincided with the Dutch Golden Age, when control of lucrative trading routes to the Far East made the Netherlands a marine superpower and one of the world's wealthiest nations.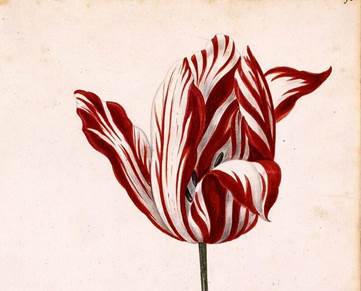 Trade and the resulting prosperity set the stage for the tulip bulb mania of the 1630s. Businessmen who became wealthy buying shares in the Dutch East India Company would decorate their estates with lavish flower gardens of tulips, which had been introduced from Turkey. The rarest and most valuable tulips were the ones with genetic impurities, which produced vibrant colors and unique patterns. Human beings love natural beauty.
In diamonds as in tulips, the rarest and most beautiful are the most valuable. Lucara Diamond Corp. (LUC-T) has been demonstrating it for years, pulling spectacular stones out of its Botswana diamond mine and selling them for prices as high as US$63 million. That price-tag, for the 813-carat Constellation, was more than Lucara paid for a controlling interest in the Karowe project before it became a mine. Fancy pink diamonds from Rio Tinto's recently closed Argyle diamond mine in Western Australia also command high prices.
Human beings love natural beauty. It's something of a counterpoint to the narrative that De Beers created the demand for diamonds with its legendary "A Diamond Is Forever" advertising campaign in the late 1940s. That branding certainly introduced diamonds to new markets, such as Japan, and established mass market appeal for diamond engagement rings. Natural diamonds, of course, have been objects of desire for thousands of years.
According to legend, a single Semper Augustus tulip bulb sold for the price of a fine Amsterdam canal house at the peak of the Dutch tulip bubble. Centuries later, it was determined that a virus had produced the vibrant colors and unique patterns of the Semper Augustus. The tulip bubble quickly collapsed. Almost 400 years later, though, the Netherlands remains a flower powerhouse globally.
In diamonds as in tulips, chemical impurities create the vibrancy and color. Fancy diamonds fetch higher prices because the stones are rare and because they are beautiful. The presence of nitrogen, for example, is what gives a population of diamonds from North Arrow Minerals Inc. (NAR:TSX.V) Naujaat project in Nunavut their vibrant orangey-yellow hue.
STAGE SET FOR A DIAMOND REBOUND
The staying power of natural diamonds has been challenged by everything from lab-grown stones to changing demographic trends to COVID-19. It's been a rough ride for investors in Canadian diamond stories, too—Dominion Diamond Corp. and Stornoway Diamond Corp., operators of two of Canada's diamond mines, were both forced into bankruptcy protection.
North Arrow has not been spared. The stock has mostly been in the penalty box since a disappointing 2015 valuation of a 383.55-carat parcel of Naujaat diamonds. The primary conclusion of the valuation was that results and modelled values should be treated with considerable caution because of the small size of the sample. North Arrow has cost-effectively advanced Naujaat and its other Canadian diamond projects since, with successes including the discovery of new diamondiferous kimberlite fields at Pikoo (Saskatchewan) and Mel (Nunavut). While other diamond explorecos went bust or switched commodities, North Arrow shed non-core assets, sold small royalties on secondary projects and did modest raises with help from its billionaire backers.
As the world slowly emerges from the pandemic's grip and consumers from their homes, natural diamond prices and sales are bouncing back strongly. Rough diamond prices have rebounded and recently eclipsed pre-pandemic levels, reports New York diamond analyst Paul Zimnisky in the February 2021 edition of his State of the Diamond Market. De Beers just raised prices at its third consecutive sale, according to Bloomberg.
The pandemic appears to have created pent-up demand for jewelry and diamonds. Tiffany & Co., the world's largest jeweler, reported record sales for the November 1 through December 31 holiday period. China is leading the way, as the growing consumer…


Read More: Fancy Contrarian Opportunity