If you are an investor with a long-term focus, we have a company that we believe that you should consider buying for the speculative portion of your investment portfolio.
The company is called Glucose Health, Inc. (OTCPK:GLUC) and we are long the shares.
As Fidelity Magellan portfolio manager Peter Lynch used to say… Finding unique investment opportunities require turning over a lot of rocks.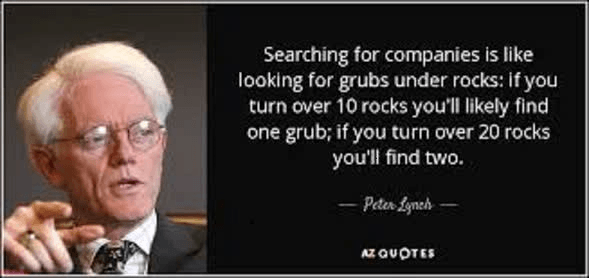 Source: AZ Quotes
We've been doing that for over ten years now since retiring in 2010 from a successful Wall Street career. We have always had a passion for the research process, are always looking for the next ten-bagger by focusing on small caps, undiscovered companies, and special situations.
In short, we turn over a lot of rocks.
Our research and investment philosophy is based upon the tenets laid out in the two books that were written by Peter Lynch; One Up On Wall Street (1989) and Beating The Street (1993).
Mr. Lynch believed that the individual investor had a distinct advantage over many of Wall Street's large Institutional Investors. That advantage laid in the fact that the average investor could take positions in companies that were far too small for these large pension funds, endowments, and managed accounts to invest in.
We continually scour the investment landscape to find "diamonds in the rough". These little gems are often overlooked by the large Institutional Investors, and as such typically remain undiscovered until their market capitalization reaches a substantial level to allow the big boys to get involved.
Such was the case with Celsius Holdings, Inc. (CELH). We first came across this micro-cap company back in 2007-2008; only a few years after the company went public.
We purchased our first shares at a price below fifty-cents and managed to accumulate a very substantial position in the shares over time.
We have written 36 articles on CELH since 2014 and you can see for yourself the chronological progression of each article that we wrote.
It was a labor of love for us to write about Celsius Holdings, Inc. over a six-year period. It defined a unique place for us, and we are glad that we were able to help investors to profit from our insights.
But, the question for us is… What do we do now?
In short, we wondered if there would be "life after Celsius" for us.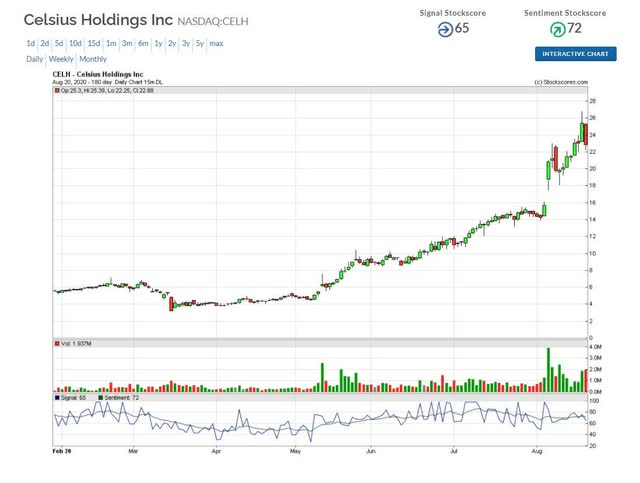 Source: Stock Scores
Suffice to say that Celsius Holdings, Inc. turned out to be an amazing investment for us. Unfortunately, we doubted whether we would ever be able to find another micro-cap with the same kind of return potential as CELH.

Source: Seeking Alpha
Then, in early 2017, we turned our attention to a company trading below ten cents a share, which had a rather unique product that, as chance would have it, fell into the same category of being a functional beverage company, and was similar in many ways to Celsius in its early years.
After some initial due diligence, we began to build a position in the company's shares at prices between 5 and 15 cents.
The Functional Beverage category has experienced tremendous growth over the past 10 years. It seems that today's discerning consumer not only wants a beverage that tastes good, but they also crave one that has functionality.
In response to this changing consumer preference, companies that once dominated the beverage industry with sugar-laden, high-fructose corn syrup offerings are now pivoting towards offering healthier beverage choices to maintain their dwindling consumer base.
Categories such as Sports Drinks, Nootropics, Enhanced Hydration, Probiotics, Weight Management, Healthy Energy, Mood Improvement, Brain & Memory Support, Immunity Drinks, Muscle Recovery, Anti-inflammatory, Hangover Cure & Prevention, BCAA (Branched Chain Amino Acids) and CBD-Infused are just some of the categories that have sprouted up in the marketplace recently.
Many of these categories not only have multiple brands within their respective group, which are being aggressively marketed by many of the different rivals in the beverage industry, but the race to differentiate a brand from among the plethora of choices facing consumers is getting much more competitive.
Generally speaking, in the CPG (Consumer Packaged Goods) space, the first to market typically holds a major advantage over the competition, by virtue of having a unique product that becomes quickly embraced by early-adopters.
This diffusion of innovations theory has five different categories of adopters – Innovators, Early Adopters, Early Majority, Late…


Read More: Finding Life After Celsius: Here's How We Are Investing In The Hottest New