The United States east coast has been witnessing powerful snow events that led to a state of emergency in New York, cancelling thousands of flights, and forcing the postponement of coronavirus vaccinations. This has a direct impact on retailers, shipping services, and supply chains, particularly considering the pandemic conditions that continue to affect the state and country. In such a situation, financial analysts are turning to geospatial datasets to better understand how this might affect stock prices and financial risks. Bloomberg data reveals a marked positive correlation between the performance of the stock price after a snowfall event and the level of the indicator calculated, reveals Bobby Shackleton, Bloomberg's Head of Geospatial, in an interview.
Excerpts
How are financial analysts estimating the risk of snowfall on retail companies? Can you explain further and give a couple of examples?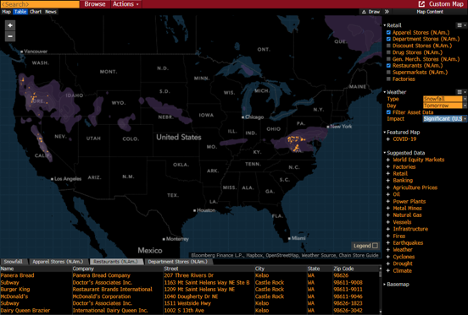 Weather moves markets. We know that intuitively, and the data bears it out. But financial analysts haven't been able to use weather data much until we were able to truly quantify it. When you and I see a forecast for a big snowstorm, we rush to the grocery store before it hits. In financial terms, we see the stock prices react to that. So, we back-tested data from 2013 to 2018 to correlate extreme snowfall events with more than 100 retailers in the U.S., such as Kroger, Rite Aid, and Walmart. We found that if you intersect the amount of snowfall with the total number stores exposed, it created opportunities for investors. Aside from studying individual retailers, our data showed trends around how industries and market sectors like apparel stores, department stores, and restaurants were affected by significant snowfall events.
ALSO READ: Data privacy legislations in 2020 and trends to watch out for in 2021
What is the connection between weather patterns and retail trends? Can you elaborate with some examples?
Our data shows weather patterns affect trends in the retail sector, as well as the shipping and delivery industries that support online retail. The transition toward ecommerce dominating consumer shopping habits has already created a whole new demand for shipping services, whether it's at a localized delivery level like DoorDash or USPS or FedEx. Weather patterns have global supply chain impacts, particularly for goods shipped by aircraft or maritime vessels. We're seeing retail and shipping sector volatility from weather events impacting cargo vessels versus consumer transit options. I think the shipping and delivery industries will continue to break out with new opportunities for investors.
What are some of the trends in malls and the retail sector — short term and long term – in a post-pandemic situation?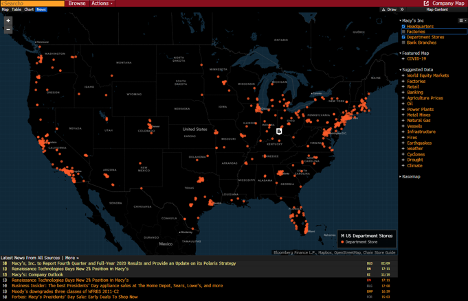 We are seeing a record number of store closings across the retail space. But at the same time, we are seeing an emergence of digital sales. We recently conducted an analysis of Macy's, which has closed a number of physical stores, and we checked to see if the retailer was struggling as a result. It turns out, the company has rebounded, and it's been through online sales. Changes in consumer habits always create disruption, but they also create opportunity for savvy investors with the right data and tools. So, while I expect a lot of turmoil in this space, I anticipate several companies to thrive as a next generation of retailers to emerge using a hybrid or fully digital approach to be successful.
How are analysts mitigating risk by using Bloomberg's mapping tools to correlate where cases are trending with where their portfolio companies are operating manufacturing and distribution centers? What are some of the patterns that are emerging?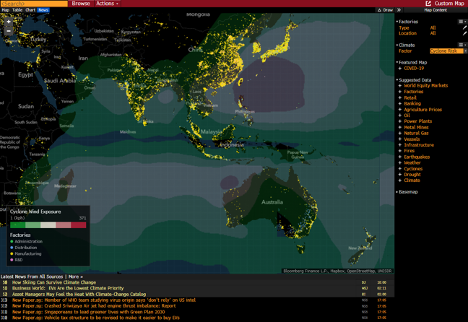 Financial analysts are starting to recognize the value of asset level data — or geospatial data — which could be locations of factories, facilities, retail stores, and so forth. We also found similar exposure trends across extreme events like tropical cyclones and the location of factory and manufacturing facilities. Financial analysts use our tools to quickly map each portfolio company's physical assets — as well as its suppliers or customers — and then assess visually their portfolio's…


Read More: How financial analysts estimate risk of snowfall on retail companies