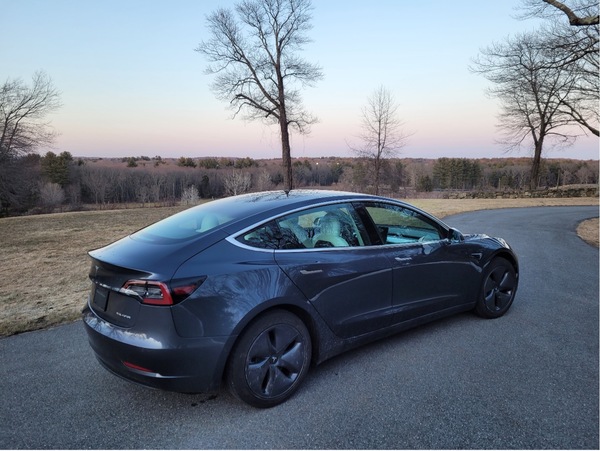 I bought a Tesla with bitcoin.
In this column I'll explain how I did it, and saved money at the same time. (You can also download our new bitcoin-to-Tesla spreadsheet at the end of this article, if you want to run the numbers yourself.)
Back in February 2021, when Daddy Musk announced we'd be able to buy a Tesla with bitcoin "in the near future," my wife and I went to our local Tesla dealer to inquire. They had no idea what we were talking about.
But this got our wheels turning. We were in the market for a new car – our Toyota Prius had over 150,000 miles and was running on compost – so while we were at the dealer, we took a Tesla for a test drive.
We had two other gasoline-powered cars we were considering, but when we got into the Tesla, we were like, This is it. By comparison, the other cars looked like horse-drawn carriages, and the Tesla was a hovercraft. It was so sleek, so advanced, so fun to drive: 33% more expensive, but 100% more satisfying.
You should know that my wife and I are thrifty about cars. We follow financial guru Dave Ramsey's advice pretty much to the letter:

…OR BITCOIN.
In our quest for financial freedom, here are the principles we've used when buying cars over the last 25 years:
Never buy a new car, always used.
Pay cash wherever possible, to avoid a monthly car payment.
Buy the most reliable models according to Consumer Reports (usually Toyotas or Hondas).
Annual service checks and an occasional wash to keep them maintained.
Run them until they don't run any more.
Most of the time, this meant we were driving boring cars that no one envied. But we saved a lot of money, which we were able to reinvest into other things, like bitcoin.
And this week, that bitcoin bought a Tesla. Here's how we did it.
Step 1: Find a Used Tesla
Unlike gasoline automobiles, which depreciate in value as soon as you drive them off the lot, used Teslas hold their value remarkably well: another reason they appeal to the budget car buyer.
Why?
First, used Teslas are in incredibly high demand. Second, they are just fundamentally different from gasoline or even hybrid cars. No oil changes, no spark plugs, no emission checks. So they hold their value longer, and you save a ton of money on maintenance to boot.
We used the usual used car websites and Craigslist to watch for Teslas on sale from private sellers. Whenever we'd see a listing, we'd check the mileage against the Kelley Blue Book value to see if the asking price was fair. (Note I am using the royal "we"; my wife did all the work.)
We quickly learned that there was not much room to negotiate price: the low-mileage Teslas listed by private sellers would usually sell within a day or two, often at full asking price. Again, this is not like buying old-school gasoline cars; there's way more demand than supply, so they sell fast.
Finally we found a model that we liked, with less than 10,000 miles: still under warranty! This thing was a find, so we acted fast. We offered to come to the owner's house for a test drive the next day.
Step 2: Take a Test Drive
My wife and I went together (always bring a friend with private sellers). We made sure he seemed legit (he was). We did a visual inspection to make sure the Tesla looked good (it did).
Then we took a test drive: the seller rode in the back seat and pointed out the features. "Every other automaker just seems like they're doing the same thing they've been doing since I was a kid," he said. "When I got into this car, it was like I was driving the future."
As he said this, I pulled onto the highway and experienced the whisper-quiet acceleration from 0 to 60 in 3.7 seconds: when you've been driving a Toyota Prius for the last ten years, this is like jumping to hyperspace. It is insanely fast.
Watch this video of people experiencing Tesla acceleration for the first time.
There is one other thing that sold me: the enormous digital display, which has all your dashboards, car controls, GPS, and autopilot. There are no dials, no knobs, no buttons. It's all done on the screen.
And the screen WORKS.
I drive a lot of rental cars when traveling, and I cannot tell you how frustrating they are to figure out. I have deep resentment toward the auto industry about their poorly-designed user interfaces that were designed by narcoleptic monkeys….


Read More: How to Buy a Tesla with Bitcoin (+ Downloadable Budget Spreadsheet)