The most valuable objects in the world all have one thing in common – scarcity.
Such a reality is especially applicable to whatever society values the most. For most people, this conjures up images of luxury goods like large diamonds, vintage wines, and even mountain-top mansions.
However, the last several decades have also revealed an increasingly stark scarcity of certain commodities that human-kind actually relies upon. Near the top of that list is copper.
In fact, the discovery of so few new world-class copper deposits across the globe in recent years has become a serious concern for the mining industry. So much so that Canadian companies have gone as far afield as Mongolia in order to unearth a new multi-billion-dollar copper asset.
More so than ever before, there is a dire need bring onstream more world-class, high-grade copper deposits due to the arrival of the green energy revolution, which is highly reliant on industrial copper.
This is why the term "scarcity value" takes on a heightened significance when applied to Kodiak Copper Corp (TSX.V: KDK) (OTC: KDKCF). The small Vancouver-based explorer/developer has made potentially one of the most prolifically­-sized, high-grade copper discoveries in North America in recent memory.
Furthermore, the latest round of drill results at Kodiak's MPD copper-gold project in southern British Columbia continues to validate the thesis that a world-class mineral asset may continue to prove itself out with addition drilling—of which there will be plenty to look forward to in 2021.
The highlights of the most-recently announced drill results from the last five holes of the drill program from the Gate Zone discovery made in 2020 are as follows: 213 m of 0.65% Copper and 0.37 g/t Gold (1.00% CuEq) and 171 m of 0.62% Copper and 0.43 g/t Gold (1.03% CuEq). As an aside, CuEq refers to copper enriched with precious metals (in this case gold) co-existing in the host rock.
These results compare favourably with the first round of drill results – ones that revealed very high combined copper-gold grades in especially thick mineralized intersections.
Additionally, Hole #10 was a 290-metre step-out to the west of all the previous drilling at the Gate zone. It successfully intersected the same mineralised system, while also exhibiting the same style of high-grade copper-gold. This speaks to the untapped potential of the Southern extension of the Gate Zone some of the large anomalies on the MPD ground.
To date, Kodiak has only drilled just over 100m of a 1km target that is defined by a copper-in-soil anomaly. The underlying geophysical anomaly is even larger, it is 3km long. Drilling Gate further is the company's next priority, then in other prospective zones such as Dillard and Dillard East. This is where extensive geophysical surveying has revealed large regional magnetic lows that correlate with overlapping geochemical (copper-in-soil) samples and historic drilling too.
Accordingly, Kodiak is fully funded (with $14 million in the treasury) for up to 30,000 metres of drilling throughout 2021. This should go a long way towards outlining the lateral and vertical parameters of this prospectively large tonnage, high-grade mineral asset at MPD.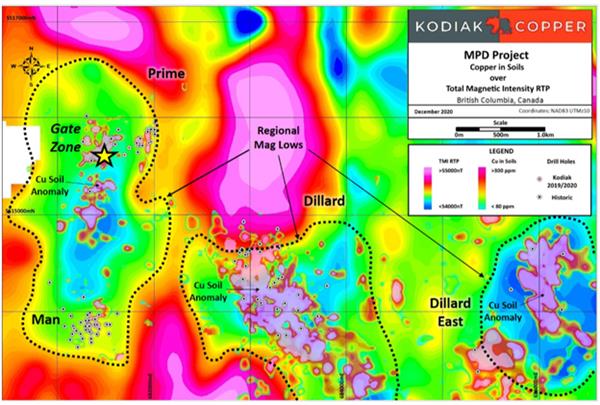 Outshining the Competition
Notably, the grades encountered in a high-grade porphyry centre are almost triple those that are mined at the other copper giants in Canada. Keep this in mind: most porphyries have high grade centres surrounded by a larger envelope of lower grades. It is the combination of these two dynamics that typically makes for a viable deposit.
The best intercepts to date, which were encountered during the first five deep drill holes, consisted of 535 m of 0.49 % Cu and 0.29 g/t Au (0.76% CuEq) including 282 m of 0.70% Cu and 0.49 g/t Au (1.16% CuEq), including 45.7 m of 1.41% Cu and 1.46 g/t Au (2.75% CuEq)*.
These grades completely outshine those of the nearby copper-gold mines. They include Copper Mountain, currently mining with reserve grades at 0.24% Cu, as well as Mount Milligan at 0.23% Cu, Highland Valley at 0.31% Cu, Mt Polley at 0.34% Cu, and Red Chris 0.36% Cu.
Collectively, these Canadian copper-gold mines average 0.35% Cu, while copper mines in the USA average a very comparable grade of 0.33% Cu. In spite of their relatively modest grades, some of BC's copper mines rank as world-class operations due to their large tonnage and…


Read More: Kodiak Copper: Drilling a Dazzling Destiny? | 2021-02-16 | Investing News