Today's beaten-down US dollar is a major short-term risk for gold. For decades this yellow metal has often inversely mirrored the fortunes of the world's reserve currency. Dollar trends are important trading cues for highly-leveraged gold-futures speculators, who wield outsized influence over gold prices. So an overdue mean-reversion rebound rally erupting in the US dollar will unleash serious gold selling pressure.
Gold has proven the ultimate universal global money for millennia now, and its US-dollar price American speculators and investors follow is simply these currencies' exchange rate. So flowing and ebbing dollar levels directly impact prevailing gold prices. Gold generally tends to rally when the dollar weakens, then sell off when it strengthens again. The leading dollar benchmark reveals this powerful inverse correlation.
That is the venerable US Dollar Index, which was launched way back in March 1973. This USDX applies a weighted geometric mean to a basket of major world currencies to track the relative value of the US dollar. The Eurozone countries' euro, Japan's yen, and the United Kingdom's pound sterling dominate the USDX commanding 57.6%, 13.6%, and 11.9% of its total weighting. Three other currencies round it out.
The USDX's sometimes-domineering influence over gold prices has faded off traders' radars in recent years. That's because gold and the US dollar rallied simultaneously through most of 2019, leading many to assume that dollar-gold link was broken. But it merely went dormant, taking a back seat to another big gold driver. Gold was powering higher on massive inflows of stock-market capital through major gold ETFs.
The overwhelmingly-dominant ones are the SPDR Gold Trust ETF (GLD) and the iShares Gold Trust ETF (IAU). Just over a month ago I wrote a comprehensive essay analyzing this critical gold-moving dynamic. In times when stock-market capital is deluging into gold, this metal can indeed decouple from the US dollar because stock traders don't care about it. They chase gold upside momentum, fueling virtuous circles of buying.
But much of the time stock traders aren't frenziedly shunting vast amounts of money into gold via those major-gold-ETF conduits. In these more-normal conditions, speculators' gold-futures trading dominates gold's price action. The incredibly-dangerous leverage extremes these guys run force them to myopically trade very-short-term time horizons. Nothing motivates them to buy or sell gold futures more than dollar swings.
This first charts proves gold's longstanding opposition to the US dollar's fortunes remains alive and well. It superimposes gold's price action during this secular bull over the US Dollar Index's own along with some of its key technicals. Despite episodes when big differential gold-ETF-share buying worked to overwhelm and suppress the classic dollar-gold relationship, it has still greatly influenced this overall gold bull.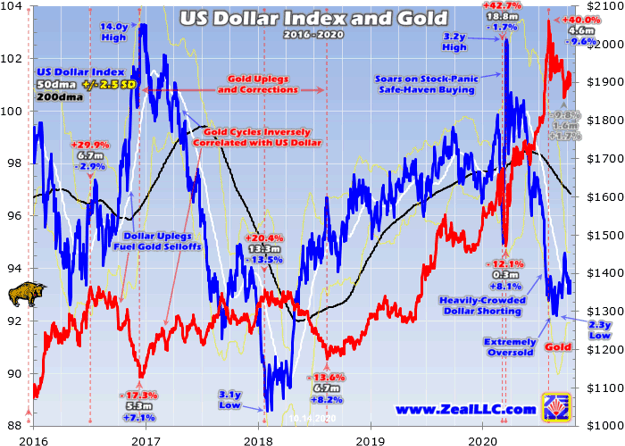 All secular bull markets are an alternating series of uplegs followed by corrections. This current gold bull has enjoyed four major uplegs and suffered three major corrections. And its fourth correction is underway today. That makes for eight separate bull segments so far, which are separated here by vertical red lines. In fully 7/8ths of these segments covering the large majority of this gold bull, gold inversely mirrored the USDX.
That happened to varying degrees, depending on how much capital stock traders were pumping into or out of physical gold bullion through those big gold ETFs. But major gold uplegs coincided with US Dollar Index downlegs, and major gold corrections unfolded on USDX rebound rallies. That's why the current low US dollar is a serious short-term threat to gold. The USDX slumped to a 2.3-year low in late August.
But this year's volatile US-dollar action began during mid-March's brutal stock panic. That was spawned by governments' draconian national lockdowns to attempt to slow the spread of COVID-19. Those fueled tremendous fear, traders had never seen anything like that. As stock markets plummeted, there was a stampede for the exits and a mad dash for cash. Save-haven US-dollar demand explodes during stock panics!
Before that ugly stock-market selloff cascaded into a full-blown panic, which is a 20%+ plummeting in two weeks or less, gold climbed to $1675 in early March. Not coincidentally that was the same day the USDX bottomed after plunging 4.9% over 12 trading days. Then as the stock selling intensified…


Read More: Low Dollar Risky For Gold