Cash Converters grew its loan book by 8 per cent in the three months to the end of March, and is hopeful its move towards mid-sized payday loans will help earnings stay sustainable into 2022 and beyond.
The retail pawnbroker on Wednesday said its gross loan book had expanded to $163.1 million in the March quarter, with its bad debt performance also improving.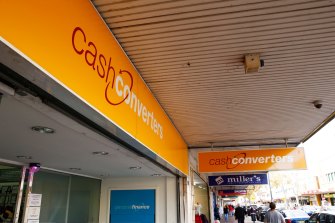 This was evidenced by lower bad debt expense, stable provision levels, and a reduction in the number of customer accounts in hardship over the course of the quarter.
The company's Australian store network continues to experience COVID-19 related impacts, with lockdowns in Western Australian and most recently Queensland, experienced throughout the quarter.
Shares in Cash Converters were last flat at 23 cents.
The $140 million firm – which has 150 stores across Australia – said it would continue to monitor loan book performance, particularly now that the JobKeeper stimulus has ceased.
Cash Converters expects loan book momentum to continue into the last quarter of 2021, as its reliance on small amount credit contracts – loans up to $2000 – diminishes over time.
Instead, it is focussing more on medium amount credit contracts of between $2000 and $5000, while also optimistic over its vehicle financing, pawnbroking and new product loan operations.
"Our core business segments have continued to recover in-line with Australia's ongoing economic recovery," chief executive Sam Budiselik said.
"Our secured vehicle finance and pawnbroking products, alongside our unsecured personal loan products, continue to meet the credit demand among the millions of Australians excluded from the mainstream financial system."
The company said while changes to small amount credit contract legislation remains up in the air, new non-SACC product research and development has progressed well, with several new product releases planned for calendar year 2021.
"Continuing to diversify loan books remains an ongoing priority, as does addressing increasing competition from lenders operating under National Credit Act exemptions, that do not provide consumers with many of the sensible safeguards that Cash Converters provides in relation to assessing consumer affordability, loan suitability and hardship protections," the firm said.


Read More: Markets Live, Wednesday 14 April, 2021