Stretch is a mobile box-moving robot, with a beefy arm and a large mobile base.

The base is the same size as a pallet, so it can fit anywhere a pallet fits.

Stretch's extra arm joints let it reach the top of the truck.

Stretch, in its compact folded-up mode.
After 28 years of research and development, Boston Dynamics entered the commercial robot market last year with the launch of Spot. This is a ~$75,000 robotic dog that can march around facilities for remote inspections and, with an extra arm attachment, can even open doors and do remote manipulation.
Today, Boston Dynamics' quest for commercialization continues with the announcement of a second commercial robot, "Stretch," a box-moving bot designed to meet the demands of warehouses and distribution centers. The robot is designed to "go where the work is" in a warehouse, unloading trucks, de-palleting shipments, and eventually building orders. For now, we're seeing a prototype, but Boston Dynamics hopes companies will start buying Stretch when it hits commercial deployment in 2022.
As Boston Dynamics VP of Product Engineering Kevin Blankespoor told us shortly before the launch of Stretch, the company is going to where the customers are. "When we released our first Atlas "Next-gen" video," Blankespoor said, "there was a part of that video that showed Atlas moving boxes, and we got a big reaction from people in the warehouse space. They wanted Atlas to come work at their warehouse." Atlas is the company's do-everything humanoid research robot and is probably far too expensive to be a commercial product.
Blankespoor continues, "We thought, 'Well, Atlas is probably a bit complicated to actually go work in a warehouse, but we could design a robot that's much more simple that has the same attributes.'" The result was not just a new robot, but a whole warehouse-focused division inside of Boston Dynamics, headed up by Blankespoor.
Getting a handle on Stretch
With a clear demand for warehouse robots, Boston Dynamics started experimenting, first with its "Handle" robot. Handle started off life based around a new "wheel-legged" mobility platform—that's two legs, but with wheels at the bottom instead of feet, enabling all sorts of nimble movement. The first version of Handle was a humanoid-ish robot that could do all kinds of crazy tricks thanks to its wheel legs, like banking around corners, rolling down steps, and leaping onto a table. The video shows Handle lifting a box with its two humanoid arms, but the robot wasn't meant for warehouse work yet.
For version 2, Handle was "re-imagined" from what seemed like a stunt robot into a warehouse robot, and instead of two arms, it used a big vacuum gripper to lift boxes. Handle still used the wheel-leg concept but now with a big counterweight on the back, and along with the long "neck" that supported the vacuum gripper on the front, it looked more like a bird. Blankespoor says Handle could cover a lot of Atlas-in-a-warehouse use cases but with one-third as many joints.
With Handle, Boston Dynamics got as far as doing experiments with customers. The warehouse work shown in the Handle version 2 video showed the robot loading and unloading a pallet in a big, open space, and Handle was good at that. The problem with Handle is that sometimes warehouse work needs to happen in a confined space, like unloading a truck, and it was there that the robot had problems.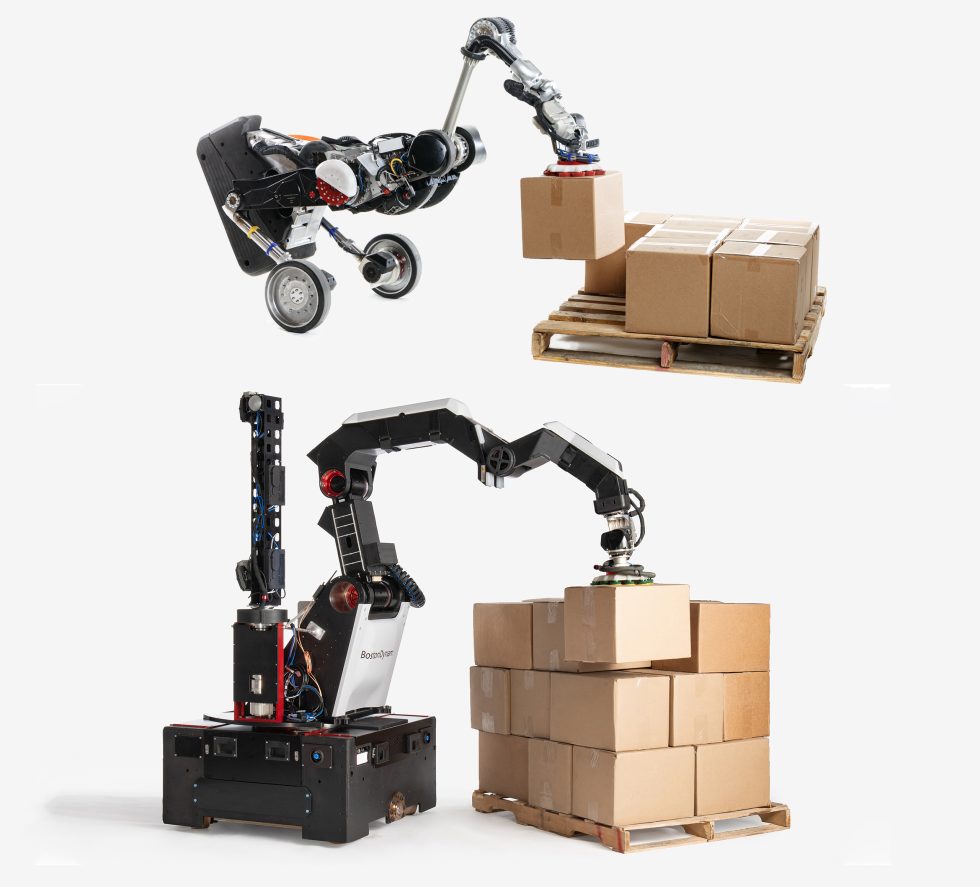 Read More: Meet Boston Dynamics' next commercial robot, Stretch