Stock buybacks are on a tear, with potential to help prop up a U.S. stock market startled by the Federal Reserve's policy meeting this past week.
"Buybacks can be a nice underpinning to the market if we do see a pullback in the summer," said Jack Caffrey, an equity portfolio manager at J.P. Morgan Asset Management, in an interview. "It's very reasonable to think there will be more activity."
Companies are resuming share repurchase programs after mostly shutting them down during the COVID-19 crisis last year, according to Howard Silverblatt, senior index analyst with S&P Dow Jones Indices. While buybacks are still dominated by a small group of companies in the S&P 500 index
SPX,
-1.31%,
he said they have broadened out this year amid record earnings in the economic recovery.
Earnings of companies in the S&P 500 index rose to an "easy record" in the first quarter that has put them on pace for almost $1.5 trillion in 2021, according to Silverblatt. That would top the $1.3 trillion of earnings in 2019, the year before COVID devastated the economy. 
"Buybacks rise with profitability," said Caffrey. "Ideally, I would like those buybacks to be coming out of earnings power rather than borrowing."
S&P Dow Jones Indices estimated in a report this past week that companies in the S&P 500 index did $178.1 billion of buybacks in the first quarter, up 36.5% from the final three months of last year. That's double the volume seen in the second quarter of 2020, when the COVID-19 pandemic was wreaking havoc in markets, but still trails the level reached in the first three months of that year by 10%, according to the report.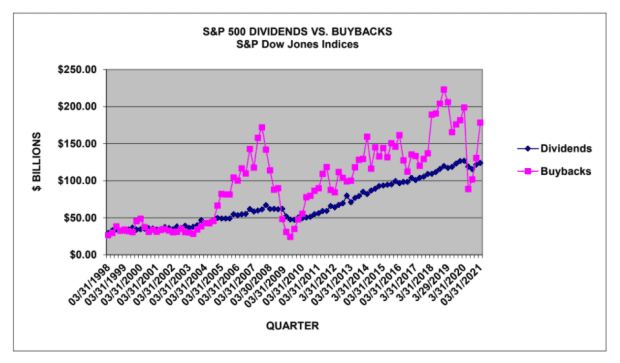 While technology companies have dominated share repurchases, banks are poised to increase them after the Fed announced earlier this year that its temporary restrictions on them would end June 30, said Silverblatt. The Fed had clamped down on buyback activity in 2020, when companies were shoring up cash in the pandemic-induced lockdowns, and began loosening its ban in December.
Wall Street is already back at it.
The top 20 buybacks by companies in the first quarter included JPMorgan Chase & Co.
JPM,
-2.53%,
Goldman Sachs Group Inc.
GS,
-3.50%,
Bank of America Corp.
BAC,
-2.56%
and Morgan Stanley
MS,
-4.35%,
according to the S&P Dow Jones Indices report. This year, "banks and financials will tend to increase buybacks," said Marco Pirondini, head of equities for Amundi's U.S. business, in an interview. 
See: Here are the 'most cash-flush' industries with stock buybacks set to pick up, according to Moody's
Cash-rich technology giants still standout for the biggest buybacks.
Among companies in the S&P 500 index, Apple Inc.
AAPL,
-1.01%
bought back the largest amount of shares in the first quarter at $18.8 billion, followed by Google parent Alphabet Inc.
GOOGL,
-1.34%
at about $11.4 billion and Microsoft Corp.
MSFT,
-0.56%
at $6.9 billion, data from S&P Dow Jones Indices show. Berkshire Hathaway Inc.
BRK.B,
-1.67%
had the fourth largest volume of buybacks at $6.6 billion, followed by Facebook Inc.
FB,
-2.04%
at $5 billion. 
But the pool of companies returning to the buyback market is expanding, says Silverblatt.
Consider that the top 20 buybacks among companies in the S&P 500 dropped to about 53% of the total in the first quarter, from 66% in the previous three months, according to S&P Dow Jones Indices. That's still higher than the historical average of 44.5% before COVID, said Silverblatt.
Buying back stock isn't exactly cheap for companies. The U.S. stock market remains not far off from all-time highs, even with major benchmarks sliding this past week after the Fed's policy meeting surprised many investors with a hawkish tilt.
Meanwhile, the market remains supported by the Fed, which left its punchbowl in place. While Fed officials signaled at the meeting an earlier rise in interest…


Read More: 'Nice underpinning to the market': Buybacks may prop stock market rattled after