The stock market is doing something unusual, especially in these volatile times: It's being led by the "old" and "stodgy" stocks of the Dow Jones Industrial Average
DJIA,
+0.58%.
The Dow has hit record highs for three days, up about 1,400 points in the past four trading days to over 32,000.  No other major index has followed along, although the S&P 500
SPX,
+1.04%
and the Russell 2000
RUT,
+2.31%
are not far away from new all-time highs of their own.  The Nasdaq
COMP,
+2.52%
is lagging. 
So, is this bullish, bearish or indifferent? It probably depends on the situation, but there is an old saying that when the generals are leading the advance, it's not a good sign for the stock market. 
That saying refers to a time when General Electric
GE,
-7.40%,
General Motors
GM,
-0.88%
and other "generals" were the mainstays of the Dow, so you can see how old it is.  It is really just a way of saying that when the majority of stocks are weakening and not making new highs, it's not a good sign when only 30 stocks are leading the way. 
Institutional investors pile into stocks
We have different (hopefully better) ways of measuring divergence these days — specifically, cumulative breadth indicators, new highs vs. new lows, etc., so we don't have to "stretch" to draw a conclusion about the Dow today. 
I will say that the buyers of these Dow stocks are not the Robinhood crowd but are the "big boys" — institutional investors — and they are piling in like mad.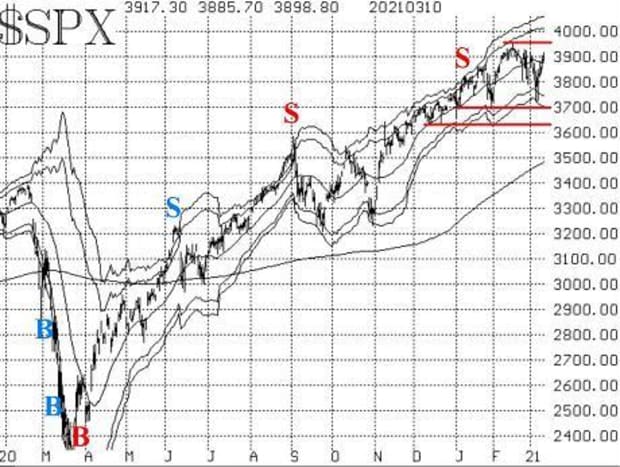 In any case, we usually use the S&P 500 as the measure of the broad stock market. The index is being dragged somewhat higher by the Dow stocks, as they are all big components of the S&P 500.  Even so, the S&P 500 continues to run into resistance in the same area: 3,870 to 3,950 points. 
A move above 3,950 — it's close today — would be a new all-time high and bullish, requiring a "reset" of all the indicators.
Lacking that, the bears still have a chance to gain some leverage. It would not be surprising to see the S&P 500 remain in the broad trading range of 3,630 to 3,950.  There is also support within that range, in the 3,700-3,725 area, where the S&P 500 bottomed out in both late January and early March.  A move below 3,630 would be extremely bearish.
Volatility off the charts
Finally, it should be noted that intraday volatility has been very extreme in the past couple of weeks. The Market Insight segment of this newsletter has some views on that subject.
Equity-only put-call ratios are moving steadily higher and that puts them solidly on sell signals. Even so, they are still at very low levels on their charts, meaning that they are overbought. They are trying to work off this overbought condition, which will eventually lead to a healthier market. But they have plenty of room to move higher and will remain on these sell signals as long as they are rising.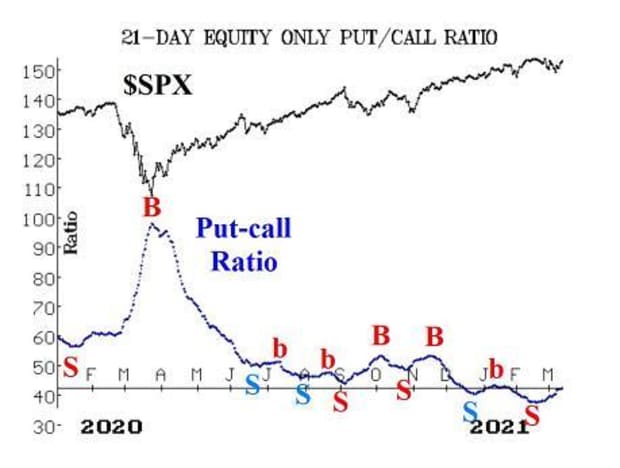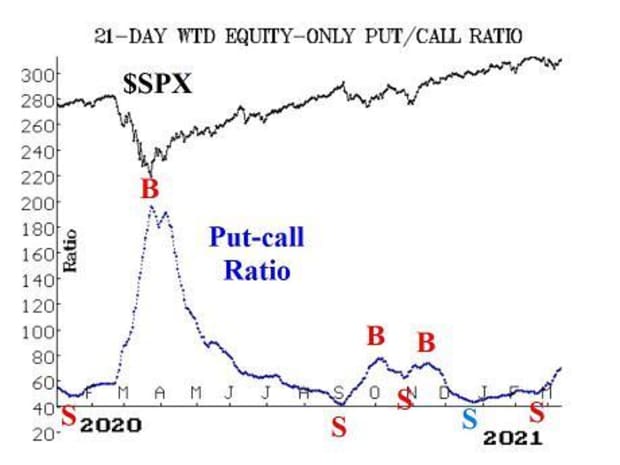 Market breadth has improved tremendously over the past four trading days. At the market's recent lows March 4, "stocks only" breadth had descended into a true oversold condition. Thus, the improvement in breadth this week has produced a solid buy signal. Both breadth oscillators are now back into modestly overbought territory (and on buy signals). The cumulative breadth indicators are improving…


Read More: Opinion: The stock market is behaving in mysterious ways — is it bullish,