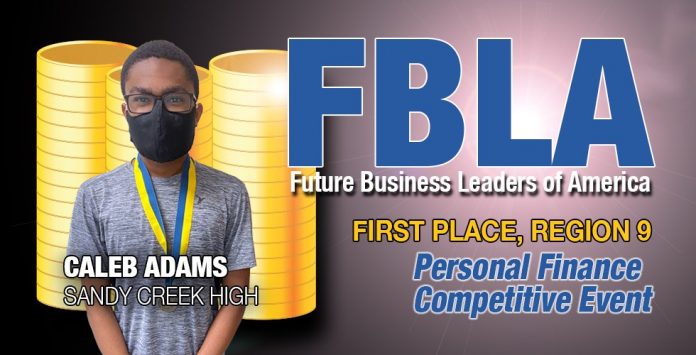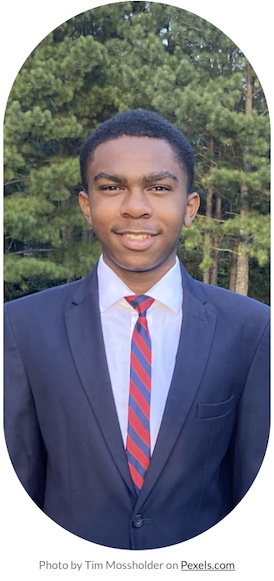 Making sure that people know how to save money and plan for their financial future is Caleb Adams' passion, and his personal finance savvy has earned him a spot in the Future Business Leaders of America (FBLA) State Leadership Conference competition.
Adams — who attends Sandy Creek High School in Tyrone — placed first in Region 9 in the Personal Finance competitive events division, and by doing so has qualified for the state competition. In addition to his first place win at the regional level, Adams finished 15th in the state in the personal finance event out of 261 competitors.
The one-hour online test measures competencies in credit and debit, income and taxes, managing budgets and finance, saving and investing, banking and insurance, financial principles related to personal decision making, and buying goods and services.
Not only is Adams a serious FBLA competitor in personal finance, but he is the founder of Up Next Finance, a website dedicated to educating people about money and its importance in their everyday lives. Check out his website, https://upnextfinance.com.
Here's what Caleb says on his website:
"Finance makes the world move. It doesn't matter if you're buying groceries or a house, money flows through every area of our lives. The exchange of money and its applications in society are essential to building wealth and reaching financial freedom.
"Both of my parents have backgrounds in business and entrepreneurship. Listening to stories about their parents and their personal journeys within these areas naturally captivated my interest.
"When I was in elementary school, my dad placed money in a brokerage account for me to invest. At the time, I had no idea about investing or the power of financial education. But through the years, I learned and continued to build upon my knowledge.
"In April 2018, when I was thirteen years old, I purchased my first stock — one share of Tesla. Ever since then, I've followed the stock market and expanded my knowledge of business and finance.
"In April 2020, two years after my first investment, I founded Up Next Finance with the goal of educating people about money and its importance in our everyday lives.
"Join me on this journey towards a better understanding of finance!"


Read More: Personal finance savvy propels student Caleb Adams to state competition