Plant-based investors Elysabeth Alfano and Sasha Goodman this week announced the first global Index and list of publicly traded plant-based stocks, christened the VegTechTM Index: The Global Vegan Impact and Innovation Index (VEGT). But which companies made the list and why?  Elysabeth and Sasha share exclusive insight with vegconomist.
The VegTech lndex of 21 global companies represents the VegTech ™ market: publicly traded companies actively innovating to remove animals from the supply chain to solve some of the world's most pressing problems. Like the Dow Jones Industrial Average or Nasdaq-100, the VegTech™ Index tracks these companies and reports monthly on the average, market cap-weighted performance to give a snapshot of the growth, health and invest-ability of the mission-driven sector.
The hope is that the Index will also encourage companies that are close to being included but have not yet fully dropped meat or dairy, to consider the same. VegTechTM is up 6.47% for the month of February to 1312.  In January, it was up 23.23% to 1232. The index started at 1000 and is currently in beta.

The Big Shift

Animal agriculture is the leading cause of environmental damage.  Animal products contribute to heart disease, cancer, diabetes, pandemics and rising healthcare costs. Animals in the supply chain are responsible for the torture of 100 billion animals yearly, including fish. For these reasons and more, the two investors wanted to create a portfolio of stocks that was 100% free of animal products, while at the same time supporting companies that disrupt their industry by removing or keeping animals from their brands.
What are the criteria?
The company needs to be working, intentionally or not, towards making animal-free advancements in their product offerings. This typically means they offer an alternative within an industry that uses a lot of animal products.
The company as a whole, not just one of its brands, cannot be involved in producing animal meat, animal dairy, animal testing (unless subjected by law), farm animal feed products, or the significant displacement of wildlife.
Below is the global list of (currently) 21 publicly traded stocks that are included in the market cap-weighted VegTechTM  index: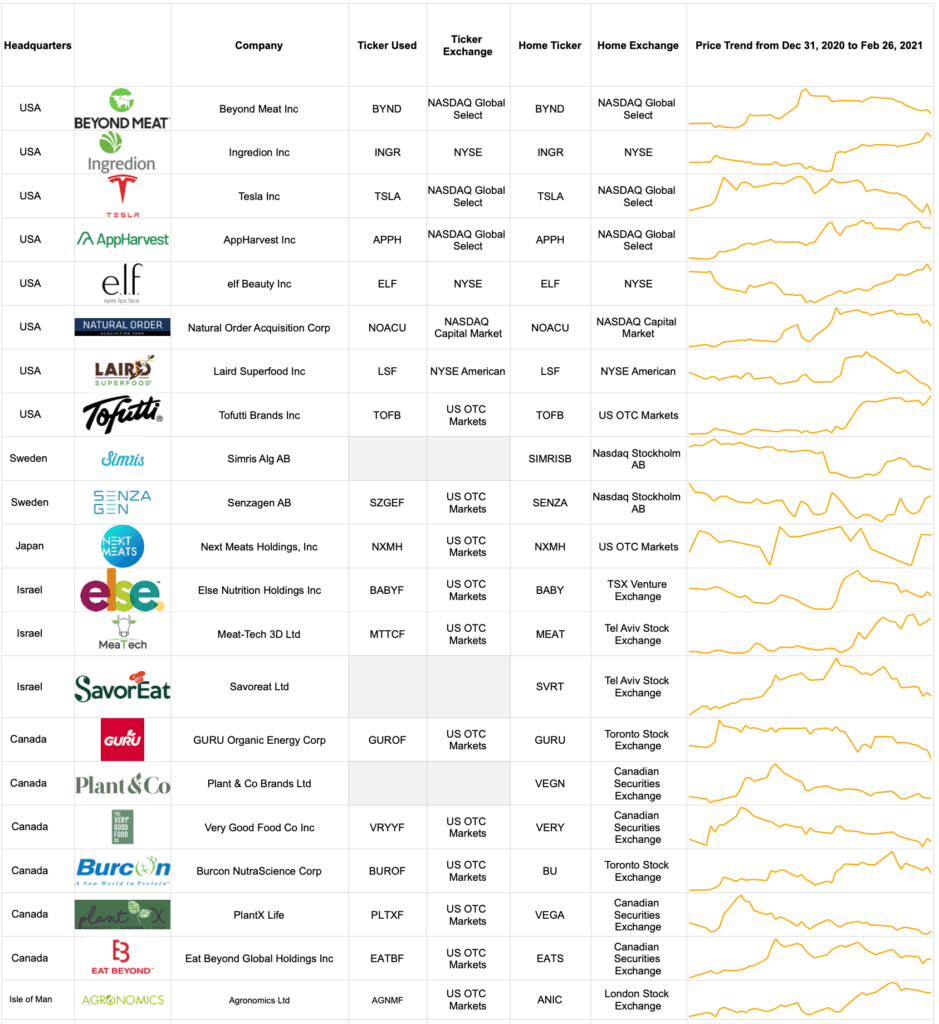 (Please note that some companies are traded in multiple countries. A stock trading in its home country is marked by an asterisk.)
Available on U.S. Exchanges 
Beyond Meat (BYND on Nasdaq Global Select*): The plant-based meat company got the attention of the financial world when, in 2019, its IPO was the most successful on the market since 2008, up 163% in one day. Maker of burgers, sausages, meatballs, grounds and breakfast sausages, Beyond Meat continues to grow through global retail availability, new fast food distribution deals, and manufacturing arrangements in the US, China, and the Netherlands.
Tesla (TSLA on Nasdaq Global Select*): Maker of high-performance electric vehicles, Tesla has made a huge statement by eliminating leather seats in all their vehicles. This stands in stark contrast to the automotive industry as a whole, which is the second-largest consumer of leather, second only to the shoe industry. Given its size, Tesla is capped at 10% in the index.
Next Meat (NXMH on US OTC Markets): The Tokyo based food-tech venture Next Meats Co., LTD specializes in plant-based meats that look and cook like the real thing. They have plans for worldwide expansion and NASDAQ listing in the future. Be warned that although the company acquired an American SPAC (Special Purpose Acquisition Company) with stock symbol NXMH, no deal has been finalized at this early stage. Therefore, shares of the plant-based food company are not traded under the NXMH ticker yet.
Laird Superfood (LSF on NYSE American*): New to the market, Laird Superfood is a supplement and drinks company which IPO'd last Fall. Co-founder and big-wave surfer Laird Hamilton led the company through a volatile market ride, and it is still finding its footing. In its filing, Laird said its goal is "to build the first scale-level and widely recognized brand that authentically focuses on natural ingredients, nutritional density and functionality."  The company offers products such as non-animal creamers, coffees, snacks, and micronutrient rich supplemental foods.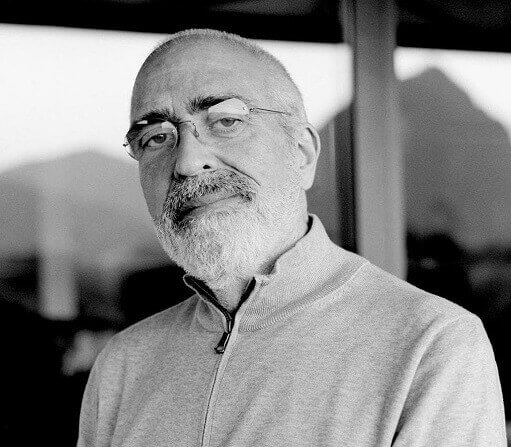 Natural Order Acquisition Company (NAOC on Nasdaq Capital Market*): NAOC is blank…


Read More: The VegTech Index, "The Vegan Dow Jones" – Which Companies Made the Cut? –