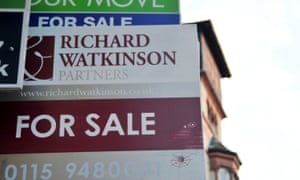 Good morning, and welcome to our rolling coverage of the world economy, the financial markets, the eurozone and business.
After a strong run, the UK housing market may be running out of steam – as a tax break introduced to stimulate demand nears its end.
House prices fell in January for the first time since last June, the latest figures from mortgage lender Nationwide show.
The average price dropped by 0.3% month-on-month, which is a sharp reverse on the 0.9% monthly growth seen in December.
It pulls the annual rate of house price growth down to 6.4% in January, down from 7.3% in December.
The average property now costs £229,748, Nationwide reports, down from £230,920.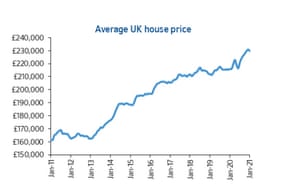 House prices have surged in recent months, amid a scramble for larger or more rural homes after the Covid-19 pandemic forced many families to work and study from home.
The rally was also sparked by the government's stamp duty holiday, announced last summer. It allows buyers of homes of a value up to £500,000 in England and Northern Ireland to pay no stamp duty, or a reduced rate for homes above that.
In Scotland and Wales, the first £250,000 of the transaction value is exempt from stamp duty.
That holiday is currently due to end on 31 March, meaning time is running out to secure a sale and complete it.
Robert Gardner, Nationwide's chief economist, explains:



"To a large extent, the slowdown probably reflects a tapering of demand ahead of the end of the stamp duty holiday, which prompted many people considering a house move to bring forward their purchase.

While the stamp duty holiday is not due to expire until the end of March, activity would be expected to weaken well before that, given that the purchase process typically takes several months (note that our house price index is based on data at the mortgage approval stage).
Gardner also warns that the market could slow in the coming months, especially if unemployment keeps rising:



"Looking ahead, shifts in housing preferences are likely to continue to provide some support for the market. However, if the stamp duty holiday ends as scheduled, and labour market conditions continue to weaken as most analysts expect, housing market activity is likely to slow, perhaps sharply, in the coming months.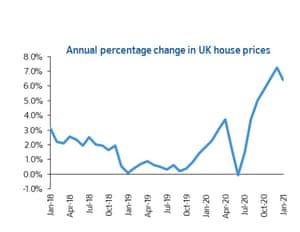 Also coming up today, we find out how the eurozone economy fared in the last three months of 2020, as the second wave of the Covid-19 pandemic hit the region.
Investors will also be watching silver – which hit an eight-year high yesterday before dropping back – and GameStop, whose shares tumbled 30% yesterday.
The agenda
9am GMT: Flash estimate of Italian GDP in Q4 2020
10am GMT: Flash estimate of eurozone GDP in Q4 2020


Read More: UK house prices dip; eurozone faces double-dip recession – business live |